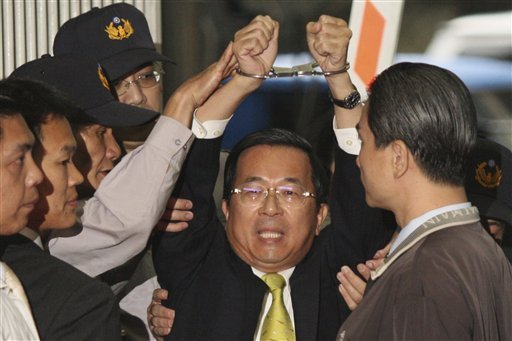 Former Taiwanese President Chen Shui-bian raises his hands with handcuffs as he is led away from the Taiwan prosecutor's office in Taipei, Taiwan, Tuesday, Nov. 11, 2008. Chen was arrested as prosecutors sought formal approval to detain him in connection with corruption allegations. (AP Photo)
Taiwan's former president ordered detained
BY PETER ENAV THE ASSOCIATED PRESS

TAIPEI, Taiwan – A Taiwanese court ordered former President Chen Shui-bian held on corruption charges Wednesday, an ignominious decision for a man who won acclaim for standing up to China with pro-independence policies.
The ruling came at the end of a marathon 21-hour court hearing that began with lengthy interrogation Tuesday but was interrupted by a trip to the hospital and didn't conclude until dawn Wednesday.

Chen, who has denied any wrongdoing, was ordered detained under an order that does not constitute an indictment. He can be held for four months before being formally charged.

As prosecutors prepare their case, he is expected to be held in the same jail in suburban Taipei where, as a dissident leader 21 years ago, he served eight months for defaming an official of the ruling Nationalist Party during the waning days of Taiwan's infamous martial law regime.

The hearing was interrupted for several hours after the former leader complained that he had been injured while being transported from a prosecutors' office to the nearby court building. He was returned to the court after doctors found he had sustained only a minor muscle tear, said court spokesman Huang Chun-ming.

Wednesday's court order has implications beyond Taiwan, where he is reviled by millions for his apparent toleration for corruption. But he is also lionized by millions for his willingness to stand up to both Chinese threats and American opposition to his anti-China line.

China insists that Taiwan is part of Chinese territory and has threatened war if the island moves to make its 59-year break with the mainland permanent.

Chen was also criticized repeatedly by the United States, Taiwan's most important foreign partner, over the China issue. During Chen's recently concluded presidency, Chen was often seen by U.S. officials as a loose cannon who could provoke a Chinese invasion.

Chen denies any suggestion that his pro-independence policies are provocative.

He defiantly predicted his arrest and tried to link it to alleged attempts by his successor, President Ma Ying-jeou, to placate China. Ma has made reconciliation with China the centerpiece of his six-month-old administration.

"This is a political persecution," Chen declared as he was led from the prosecutors' office in handcuffs Tuesday afternoon. "Cheers for Taiwan."

Li Yihu, a Taiwan expert at Peking University in Beijing said Chen's prosecution is not related to China.

"It is a case involving a great amount of money and has had a negative influence, so it must be dealt with," he said. "It is nothing to do with placating the mainland."

Corruption allegations seriously undermined his authority during his last two years in office, and provoked mass demonstrations demanding his resignation.

Family and close advisers were imprisoned on a variety of graft charges, his wife went on trial for allegedly looting a special presidential fund, and Chen himself became the subject of a complex series of judicial probes.

His questioning Tuesday by a special team of prosecutors focused on allegations he laundered money and made illegal use of the special presidential fund during his eight years in office that ended in May.

In a dramatic television appearance in August Chen admitted that he broke the law by not fully disclosing campaign donations he had received, after a lawmaker from Ma's Nationalist Party alleged that Chen's son and daughter-in-law moved millions of dollars to Switzerland in 2007, and then forwarded the funds to the Cayman Islands.

【2008/11/12 THE MORNING SUN】
報紙原貌
---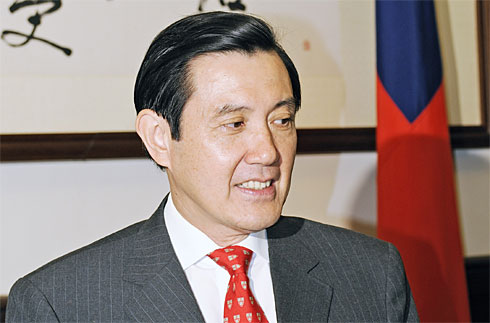 Taiwanese President Ma Ying-jeou speaks from the presidential palace Tuesday. (By Henry Westheim, WPN for USA TODAY)
Taiwan: Pact with China could lead to peace
BY PAUL WISEMAN USA TODAY

TAIPEI, Taiwan — Following the highest-level talks ever between China and Taiwan, Taiwanese President Ma Ying-jeou expressed hope Tuesday for an eventual peace accord with the two longtime rivals.

"We do not exclude the possibility that we will negotiate and sign a peace agreement," Ma told USA TODAY in a 40-minute interview at the presidential palace. "We don't know how long it will take. … We have to improve relations with the mainland on a step-by-step basis."

Last week, Chinese envoy Chen Yunlin met with Ma in Taiwan and signed an agreement expanding air, shipping and postal links between the island and mainland.

If the two governments can resolve 60 years of tension, it would remove a potential hot spot for President-elect Barack Obama.

Ma said last week's deal improved prospects for peace and eased diplomatic strains between Taiwan and the United States. "This is very significant for Taiwan and for the Chinese mainland, but also for the United States," said Ma, 58.

Thousands of Taiwanese protesters staged massive demonstrations last week accusing Ma's government of selling out Taiwanese sovereignty. The protesters even laid siege to the hotel where Chen was attending a banquet.

Officials at China's Taiwan Affairs Office in Beijing could not be reached for comment late Tuesday. On Friday, Wang Yi, head of that office, described Chen's visit as one of "exploration, cooperation and peace," the state-run Xinhua News Agency said.

China has aimed hundreds of missiles across the Taiwan Strait in an attempt to pressure the island into eventual reunification. The two have been separate since the Communists took over the mainland in 1949. China has said any move toward Taiwanese independence would be an act of war.

The U.S. is entangled in cross-Strait relations because a 1979 law calls any threat to Taiwan a "grave concern" but leaves unclear whether U.S. forces would intervene to defend the island.

Ma was elected in a March landslide, promising to improve relations with China. His policy toward the mainland was a sharp change from that of his predecessor, Chen Shui-bian.

During eight years in office, Chen provoked Beijing — and strained relations with Washington — by taking symbolic moves toward Taiwanese independence, such as closing a government office dedicated to Taiwan's reunification with the mainland. On Tuesday, Chen was detained after being questioned most of the day about a money-laundering case involving him and his family.

"Taiwan-U.S. relations, which are vital to our security, have been seriously damaged in the last eight years," Ma said. "It has become my primary goal to restore mutual trust."

He cited Taiwan's recent agreement to buy $6.5 billion in U.S. arms as a sign that he's improved relations with Washington.

Ma also:

• Called for an end to the "cut-throat competition" with China for international allies. Both countries have used "checkbook diplomacy" to win support with financial aid money and other financial support. Ma said he's ordered his Foreign Ministry to end the practice. The effort never did much good: Ma noted that only 23 countries recognize Taiwan diplomatically, vs. 171 that recognize mainland China.

• Urged the world community to support Taiwan's efforts to overcome Chinese opposition and join specialized United Nations agencies such as the World Health Organization.

• Doubted he would go to Beijing to meet Chinese President Hu Jintao. "The time has not come for the leaders of the two sides to meet," he said. "There are different opinions on how much and how fast we should engage the other side. … We will go with very steady steps. We should not rush."

【2008/11/12 USA TODAY】
報紙原貌1
 報紙原貌2